Join the Pots & Pans Protest outside the White House –
Mon July 14th, 11am – 12:30pm
Pennsylvania Ave between 15th and 17th Sts.
Take action in your city, town or rural area.
Background to Stop the War on the Poor


Stop the War on the Poor commemorates Martin Luther King Jr's Poor People's Campaign (PPC). In 1968, just prior to his assassination, Martin Luther King Jr condemned the Vietnam War and called for the PPC culminating in a Poor People's March in DC in June, demanding a living wage and a guaranteed income. He said Congress had shown "hostility to the poor" by spending "military funds with alacrity and generosity". Coretta Scott King spoke out against poverty and in support of welfare mothers.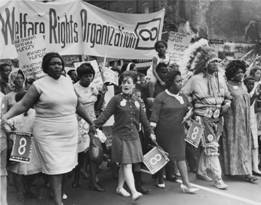 King learnt from welfare mothers. They had been calling for a poor people's campaign and urging his organization, the Southern Christian Leadership Conference (SCLC), to oppose "anti-welfare" legislation and support their right to welfare. As a result of their leadership, King became anti-capitalist and anti-war. * Source: Michael Eric Dyson
Actions in the US, Ireland and England!
What are we demanding?
Passage and implementation of the RISE Out of Poverty Act 

(H.R. 814, Rep Gwen Moore D-WI) that

 

makes the elimination of child poverty central to welfare legislation and recognizes caregiving and education as work 

Sign petition online
Passage and implementation of the Social Security caregivers Credit Act 

(H.R. 5024, Rep Nita Lowey D-NY), another step toward recognizing caregiving as work.

Child welfare agencies stop removing children from families 

because of poverty, racism, sexism or other bias rather than abuse or neglect.

A living wage for mothers and other caregivers 

– we are launching an international petition.

Resources for the care of people and the planet, not war and occupation.
Why do we need it? While one in two people in the US lives at or near poverty and the planet is on the brink, the US spends $682 billion on the military – nearly half the world's total.
Fact Sheet • Early Day Motion • actions in Milwaukee • Los Angeles • Philadelphia • San Francisco Bay Area • Ireland • London