Press Conference March 29th at 12:30pm outside Edelman Children's Court, 201 Center Plaza Drive, Monterey Park, CA 91754
In a ruling today, Good Friday, at Edelman Children's Court, a judge ruled that the son of Mrs. Patty Sanchez, a low-income Spanish-speaking mother, be returned to her. This brings a happy conclusion to an 18 month separation of mother and son. DCFS detained Mrs. Sanchez's son in September 2011 when she was falsely charged with medical neglect of her then 15 year old special needs son. Mrs. Sanchez along with community supporters from Every Mother is a Working Mother Network and DCFS-Give Us Back our Children, fought tirelessly for the past 18 months for her son to be returned to her.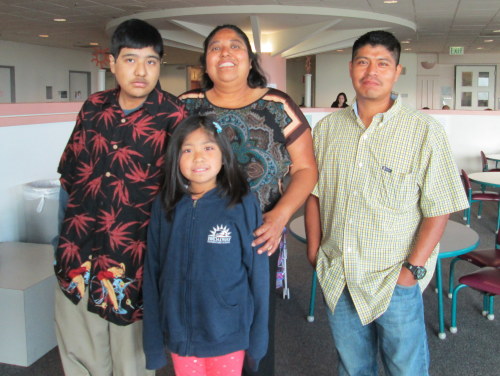 Patty Sanchez and family
Today, Friday March 29th, the Children's Court judge ruled that placement in foster care be terminated and for services to the family to be continued. He also ruled that her son will continue to be under the "custody" of the court until a hearing on October 4th. Until that time, family will continue to be monitored by a DCFS social worker.
Mrs. Sanchez had tears of joy at the ruling, there were hugs and smiles all around as she greeted family and supporters. She says "I am overjoyed I now have my son home with his family who missed him and who loves him. Who can care better for him than his mother?" His little sister Ruby was all smiles and Mrs. Sanchez's son seemed at ease with his family.
Sidney Ross Risden of Every Mother is a Working Mother says "The young man should never have been taken from his mother in the first place. All who know Mrs. Sanchez know she is an exemplary mother. She met many challenges in getting what is best for her special needs son. All too often, written information from LA County as well as from medical professionals was provided to Mrs. Sanchez in English only, when it was clear to all that she spoke only Spanish. If Mrs. Sanchez was English-speaking in a high income bracket this never would have happened. No child should ever be separated from a loving family due to a lack of English skills and/or because of economic discrimination."
Her supporters say that in addition to reuniting mother and son that DCFS has to be accountable for this injustice, and offer the necessary support for the family including healing their emotional trauma. They say what happened in this case should be investigated so that no other family has to go through what the Sanchez family has. They say that rather than providing the resources to keep the family together instead DCFS took the son from his mother's loving care and placed him in foster care with strangers.
Nevertheless, despite concerns of how and why this happened, all involved are thrilled that the family is finally, after a long haul, back together again and just in time for Easter!