Friday April 30, 11am-4pm
Tax/Utility/Benefits Assistance Day!
Outside new Crossroads Women's Center 5011 Wayne Ave in Germantown (Philadelphia)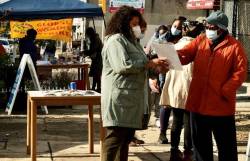 Mothers! Caregivers! Others! Get help filing your taxes and claiming your entitlements. Get legal help with tax and utility issues as shut-offs and sheriff sales resume. FREE!!!
Food giveaway • Caregiving survey
Tax experts, lawyers and benefits counselors on site. Bring your tax paperwork or just drop by.
All welcome. Outdoors. Masks required. Wheelchair Accessible.
Schedule for the day: Overview of services followed by one-on-one help starting at 11am, 1pm, 3pm.
If you are in the Philly area, please help get the word out!  Download, print and distribute flyers here.