The Philadelphia Daily News published this important article on Thursday about grandmother Janice Brown's many-year struggle to reunite with her grandchildren.
Please add your comments on the original article and below. (If you don't see comments at that link, go to philly.com and search for "A grandmother's DHS ordeal").
Our letter to the editor (not yet published):
"Our hearts go out to Ms. Brown and her grandchildren [A Grandmother's Ordeal, Feb 6].   Their pain is not unique, as we know from the steady stream of distressed mothers, grandmothers, aunts…. who contact us.  Carolyn Hill is another loving caregiver whose nieces, placed in her care by DHS, were later removed by DHS, the only true reason given that she did not have a GED or high school diploma.  She too was denied standing in court despite being in the adoption process and despite active support from her family, church, neighbors, state rep, women's organizations, a pro-bono lawyer and even her former DHS social worker.  It is because of the rubber stamping by courts of DHS' and child advocates' racial, gender and class profiling, financial incentives for agencies to keep kids in care, lack of good or any legal help, and a bias toward punishing low-income families rather than helping them, that Philadelphia has the distinction of the highest rate in the country for a city of its size of removing children from their homes.  The trauma for children, first losing parents, then in foster care – where nationwide one third report abuse by an adult – is ignored."
A grandmother's DHS ordeal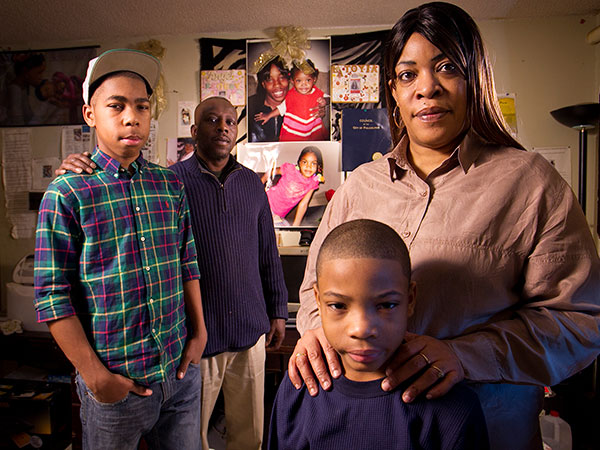 Janice Brown has been fighting to get her grandchildren back after placement by DHS. Her daughter died in a car accident that killed 4 in the Feltonville section of the city in 2009. In the picture are Janice Brown with grandson Kyshone Smith, 7, and in background are husband Maurice West and her son Dontay Gilliam, 14. ( ALEJANDRO A. ALVAREZ / STAFF PHOTOGRAPHER )
STEPHANIE FARR, DAILY NEWS STAFF WRITER FARRS@PHILLYNEWS.COM, 215-854-4225
POSTED: Thursday, February 6, 2014, 3:01 AM

AT THIS point, even death makes more sense to Janice Brown than the actions of the Department of Human Services and Philadelphia Family Court.
Brown knows that death doesn't have to give a reason for taking her loved ones, but she always thought DHS and the courts would.
So she's had a harder time accepting the loss of the children who were taken from her by the system than the loss of the children taken by death.
"Death you can't do anything about. But the loved ones you know are still here and living, but can't see – I think of them every day and night," said Brown, whose 22-year-old daughter, Latoya Smith, and 11-month-old granddaughter, Rimanee were killed in June 2009 along with two other young children when a driver fleeing police slammed into the Feltonville sidewalk where they were sitting.
Six months after the tragedy, DHS removed Brown's three grandchildren, including the surviving son of her dead daughter, and placed them in foster care, citing relatively minor neglect reports that had been filed against her more than a decade before when she was raising her own children. A judge returned one of the grandkids to Brown but the other two were adopted and Brown isn't allowed to visit them.
Then, in December, DHS asked Brown to take in three new children.
If Brown was allowed to keep one grandchild, why were the other two taken away? And if she was unfit, why would DHS ask to place more kids in her care?
"It was like God said, 'Here, I'm going to let DHS put three more children in your care to show them that you did nothing wrong,' " said Brown, whose struggles were detailed by the Daily News in March 2010, before the final fate of the children was decided.
For the last four years, Brown – who was not allowed to sit in on court proceedings for the grandchildren who were adopted – has fought to get those kids back, or at least to get visitation. Her pleas have fallen on deaf ears.
Caring for grandkids
Back in 2006, DHS asked Brown if she would take her son's daughter, Envy, into her care along with Envy's brother, Zyeem, who were both toddlers at the time. The siblings share the same mother but have different fathers.
Brown agreed, but a day later DHS learned of the prior neglect reports and removed the kids.
However, after reviewing the six old substantiated reports against Brown – which included allegations of a smelly house and no hot water and did not result in the removal of her own children – Family Court Judge Lisa Richette ordered the grandkids to be placed back in Brown's care.
In 2007, DHS approved Brown to take in another grandchild, Kyshone Smith, the son of her now-deceased daughter.
Today, Brown's North Philly apartment is neat and tidy, with the shelves well-stocked and the walls full of religious items and tributes to her dead loved ones.
Brown, 50, is a deaconess at her church, Shabach Evangelistic Deliverance Temple, were she attends Bible study every Wednesday. In 2011, she married her boyfriend of six years, Maurice West.
Since Brown's youngest son, 14-year-old Dontay, and her 8-year-old grandson attend Agora Cyber Charter School from home, Brown stays with the boys and has started her own handmade jewelry and glass-engraving business. She loves music, especially Gospel, and she's a self-proclaimed homebody who doesn't like to go out unless it's for church or shopping.
"I'm living a more godly life now," she said. "I was younger back when those reports were made. We crawl before we walk."
Three caseworkers – one for each of the children she was asked to care for – visited Brown's home once every two weeks for three years and consistently provided positive evaluations in writing.
Brown said DHS didn't mention adoption until the kids had been in her care for more than three years. DHS asked Brown if she would be willing to adopt the children and once she got the approval of their parents, she began the process.
That's when the prior neglect reports were resurrected and all three kids were taken from her care on Dec. 9, 2009.
Kyshone's case was heard by now-retired Judge Flora B. Wolf while Envy and Zyeem's case was heard by Family Court Administrative Judge Kevin Dougherty.
In the first hearing after the children were taken on Dec. 17, 2009, Brown said Dougherty raised several concerns, including an open bench warrant from 1984 that she'd cleared up 10 months prior. His main concern, she said, seemed to be her mental health in light of the tragic deaths she'd just suffered.
According to a portion of the court transcript from that day provided to the Daily News by Brown, Dougherty said to her: "I want you involved but you can't be a good grandmom when you're not healthy emotionally, mentally and physically. You can't get over a loss like that. Listen, you're never going to get over it. It's how are you going to deal with life."
Dougherty denied Brown standing in the case and barred her from any other court proceedings regarding Envy and Zyeem.
Wolf, however, ruled Brown did have standing in Kyshone's case and allowed her to participate in the hearings. On July 31, 2010, Kyshone was reunited with his grandmother, where he's remained since without a problem.
Wolf and Dougherty declined to comment for this story.
After reading of Brown's struggles in the Daily News in 2010, attorney William Braveman took her case.
He filed a petition to intervene on Brown's behalf. That was denied by Dougherty, but Brown said she was never informed of that. Apparently, neither was Braveman, who kept pursuing the petition, according to emails provided by Brown.
But on Oct. 26, 2010, Deputy City Solicitor Lyris Younge emailed Braveman to say that his motion had been denied by Dougherty and, "Subsequently, the children have been adopted. The adoptive parent is not interested in visitation."
That email exchange illustrates Braveman's surprise:
"When did the adoption occur?" he wrote. "I thought it was not listed until December 1."
Younge wrote back: "I am sorry, Will. The adoptive parent is not willing to do visitation."
And that was it.
Braveman declined to comment for this story.
'I can't give up'
More than four years have passed since Brown has seen Envy or Zyeem. Those aren't even their names anymore. They were changed by their adoptive mother.
But there hasn't been a day that Brown doesn't think of those kids and wonder why they were taken.
She knows the odds of an adoption reversal are astronomical, but she can't stop fighting.
"I can't give up because I know I did nothing wrong," she said. "Some people cry out, some people give up, some people fight. I'm a fighter."
But even with all her frustration with the system, Brown couldn't turn her back when, once again, DHS came knocking on her door in December.
The agency had three children in a precarious situation and had to investigate their parents. The mother, whom Brown considers like a niece, provided Brown's name as a placement home.
On Dec. 19, DHS called Brown and asked if she'd be willing to take in the siblings – a 6-month-old with a broken leg, a 2-year-old and a 5-year-old.
She agreed and the kids were brought to her house that night. They stayed until Jan. 17, when their mother was cleared of any wrongdoing.
"It felt good to help someone else out," Brown said. "Thank God we did not let these children fall in the cracks of DHS."
Now, Brown just wants DHS and Family Court to help her answer one question: Why?
Why were the granddaughter and foster grandson she raised for three years taken from her?
"Everybody makes mistakes, ain't nobody perfect." Brown said. "If that's what happened, what I'd like is just for them to come and tell me they made a mistake and try and fix it."
But nobody will tell her why it happened or admit a mistake.
In an emailed statement to the Daily News, DHS Commissioner Anne Marie Ambrose said she couldn't speak about any of the cases involving Brown.
"Ms. Brown's ordeal is heartbreaking and we understand her disappointment and frustration, unfortunately, we cannot discuss what led to the removal of her grandchildren," Ambrose wrote. "What we can say, is that DHS has made many improvements that will result in more consistent case-management decisions."
Among the adjustments Ambrose cited was Improving Outcomes for Children, a delivery model that assigns one worker per family and bases case management on the community where the family lives.
But Brown is still left wondering: What has become of the grandchildren she loved and why was she not worthy of being a part of their lives?
---
On Twitter: @FarFarrAway
Online: ph.ly/crime
Blog: ph.ly/Delco