STOP ELIMINATION OF GENERAL ASSISTANCE!
TAKE ACTION ON GENERAL ASSISTANCE NOW—FULL HOUSE VOTE EXPECTED SOON
The bill that would end General Assistance — HB 33 — was passed by the PA House Health Committee on Monday, March 25 and may move quickly to the House floor for a vote.
Please contact your local legislators and tell them vote no on eliminating or cutting GA.
Call and email your local PA House member, other legislators – also your local PA Senator. Call their Harrisburg and local offices.  Please see sample script, below. 
For more information, see links below:
Also, oppose Governor Wolf's proposal to divert GA funding to affordable housing – we need both cash assistance and housing!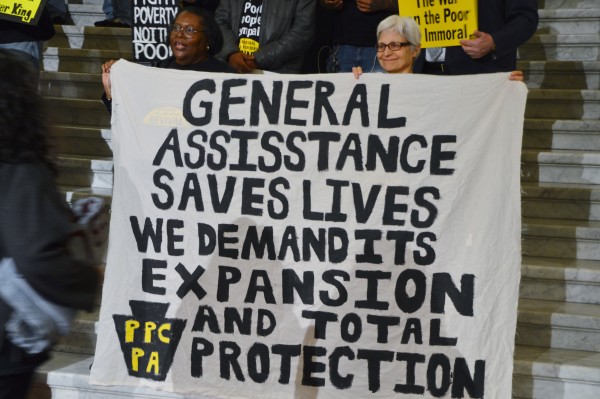 Sample script
I'd like to speak with Rep.  ____,
I understand that HB 33 that would once again eliminate General Assistance, finally reinstated in 2018 after it was gutted in 2012, has passed the House Health Committee and is heading for the House floor. We are counting on you to fight to keep GA, which is a lifeline for those in need who are ineligible for other forms of cash assistance including Temporary Assistance for Needy Families or TANF.
Some of those impacted, would include:
women and others leaving domestic violence situations;
young people trying to survive besides a life on the streets;
caregivers for an unrelated child;
people in drug or alcohol recovery programs;
people waiting, sometimes for years, for disability benefits, including:

veterans;
people getting out of prison;
mothers who lost TANF when their children were put in foster care, often because of poverty
People of color would be disproportionately impacted.
Can we count on you to vote against HB 33 and to put pressure on your fellow legislators, Democrats and Republicans, to not only save GA but increase the benefits and expand this vital program? And to oppose Governor Wolf's proposal to divert GA funding to affordable housing?
We need both cash assistance and housing!