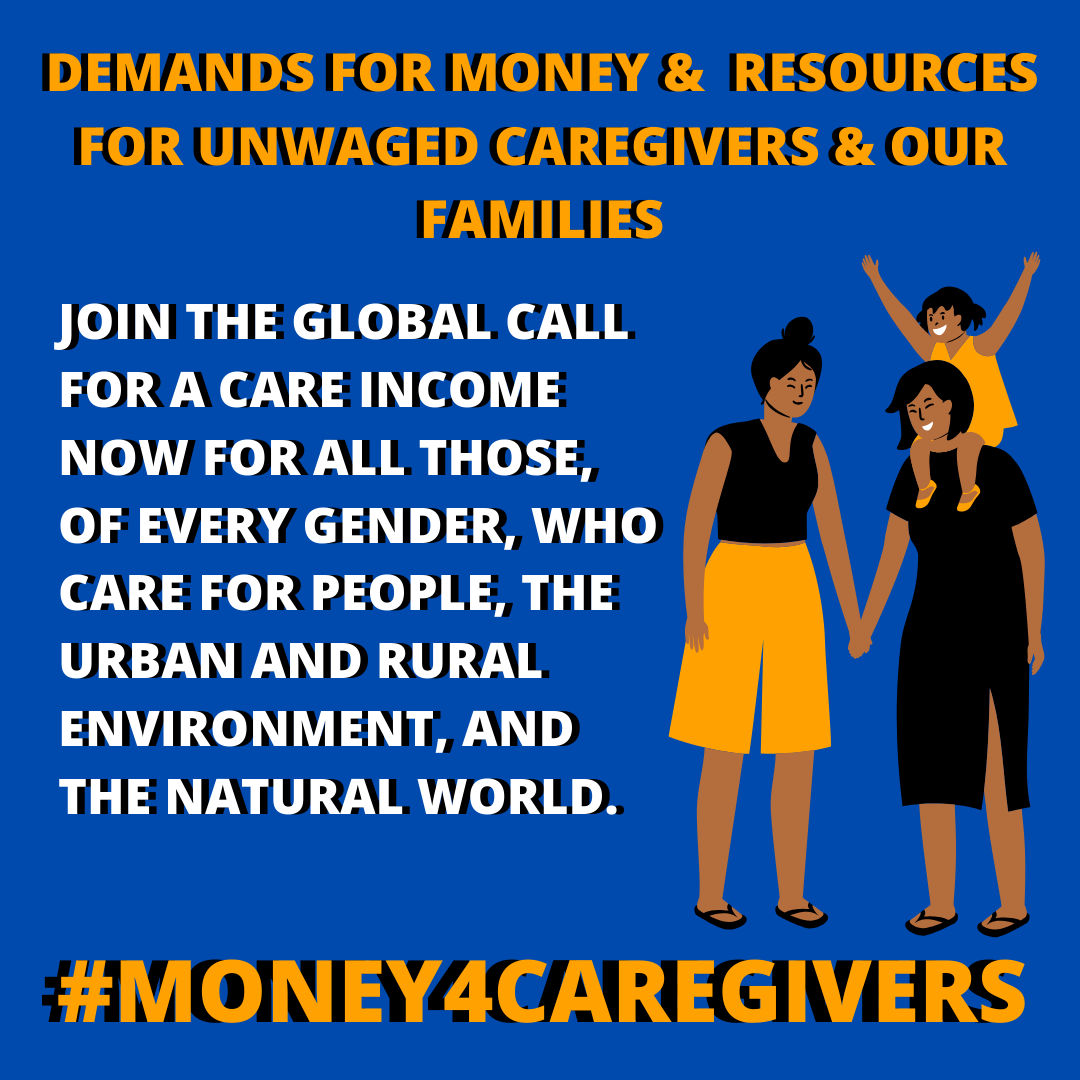 Demand Money and other Resources for
Unwaged Caregivers, Our Families & Communities
Unwaged primary caregivers in the home must receive COVID-19 relief money. And we join the global call for a Care Income Now for all those, of every gender, who care for people, the urban and rural environment, and the natural world.
Eliminate all work requirements and time limits and increase benefit levels

for those getting public benefits. Reinstate General Relief/General Assistance. Students must be eligible for public benefits.

Ongoing, fully refundable child tax credits (available for anyone regardless of income or lack of income)

must go directly to the primary caregiver, which is usually the mother.

Extend fully refundable tax credits to those caring for other dependents as well as those caring for children.

This would begin to provide some support for family/relative caregivers of elders and those who are ill or have disabilities.

Provide cash relief directly to victims of domestic violence and/or rape and other sexual abuse, sufficient to allow victims (and their children) to get to safety and establish independent housing.
Emergency cash assistance must be paid on top of any public benefits without cutting those benefits.  Relief money must be accessible for those with zero or no taxable income or no social security number or no bank account and irrespective of immigration status.  Students should also be included in COVID-19 cash assistance.
All SNAP (food stamps) recipients must be eligible for emergency assistance and all SNAP benefits increased. SNAP EBT online purchasing must be available to all recipients and delivery fees waived. SNAP recipients must have access to quality food, including organic.
Comprehensive, high quality healthcare, free of cost to all, regardless of immigration status.
Stimulus payments to individuals must be protected from private creditors, and fast-tracked to those who have not yet received them.
Make price-gouging illegal.
In every stimulus bill, additional unemployment benefits should not count against anyone from food stamp, housing, and /or any other benefits.
Keep Families Together
Stop removing children from the home because their mothers are poor or victims of domestic violence. Instead, emergency benefits and resources must be made immediately available so that children can remain safely with their mothers.
Return children home immediately where the goal is already reunification. Children in group homes and juvenile detention should be returned home immediately, with needed benefits and resources, where there is no risk of significant harm to the child.
Stop the clock on adoption and termination of parental rights established in the Adoption and Safe Families Act.
Maintain and extend in-person visitation to minimize the ongoing trauma of family separation wherever possible. Where not possible, provide video conferencing technology and/or reimburse parents for these costs.
Release all children detained at the border and in ICE detention to their families or to someone selected by their families. All families held in detention centers must be released together. Shut down all immigrant detention centers.
Stop deportations and ICE raids which add additional stress on families living in fear and may deter those with COVID-19 symptoms from seeking healthcare.
Provide rent forgiveness, and make housing, including vacant housing and buildings where needed, available for those who are homeless, housing insecure, or in danger of having their children taken on account of a housing issue, as well as children who have aged out of foster care, with priority given to women and children.
Stop all utility shutoffs including water, and return service immediately to all whose utilities have been shut off, needed urgently to protect general public health as well as family health, end homelessness, and protect families in danger of having children taken due to a utility shutoff issue.
Our Communities & Environment
Provide free broadband and computers for low income families with children and for elderly and/or disabled people. Public school children still without computers must receive them immediately.
Provide uninterrupted resources for families with special needs children and those in ESL (English as a Second Language) programs.
Mothers and other primary caregivers who have been criminalized while trying to provide for their families, including for sex work, must be released from prisons and jails and provided with needed benefits and resources.
The right to women's health services, including those that ensure the right to reproductive choice, must be protected.  All products for menstrual needs and diapers should be free of cost.
Stop industry, farming and military practices that pollute the environment and are destructive to people's health.  Prioritize cleaning up toxic sites.  Give financial assistance to residents living on or near toxic sites to help mitigate increased vulnerability to COVID-19 due to existing pollution-related ill health. 
Call issued by: Every Mother is a Working Mother Network; Global Women's Strike (GWS); Women of Color/GWS 
East Coast:   215-848-1120   philly@globalwomenstrike.net
West Coast:  323-276-2833   la@allwomencount.net
    or  415-626-4114  sf@allwomencount.net
Demand Money and other Resources for
Unwaged Caregivers, Our Families & Communities