Testimony from the Global Women's Strike and Every Mother is a Working Mother Network in Support of the Community Safety and Health Amendment Act of 2019 at the Hearing of the Committee on the Judiciary and Public Safety, October 17, 2019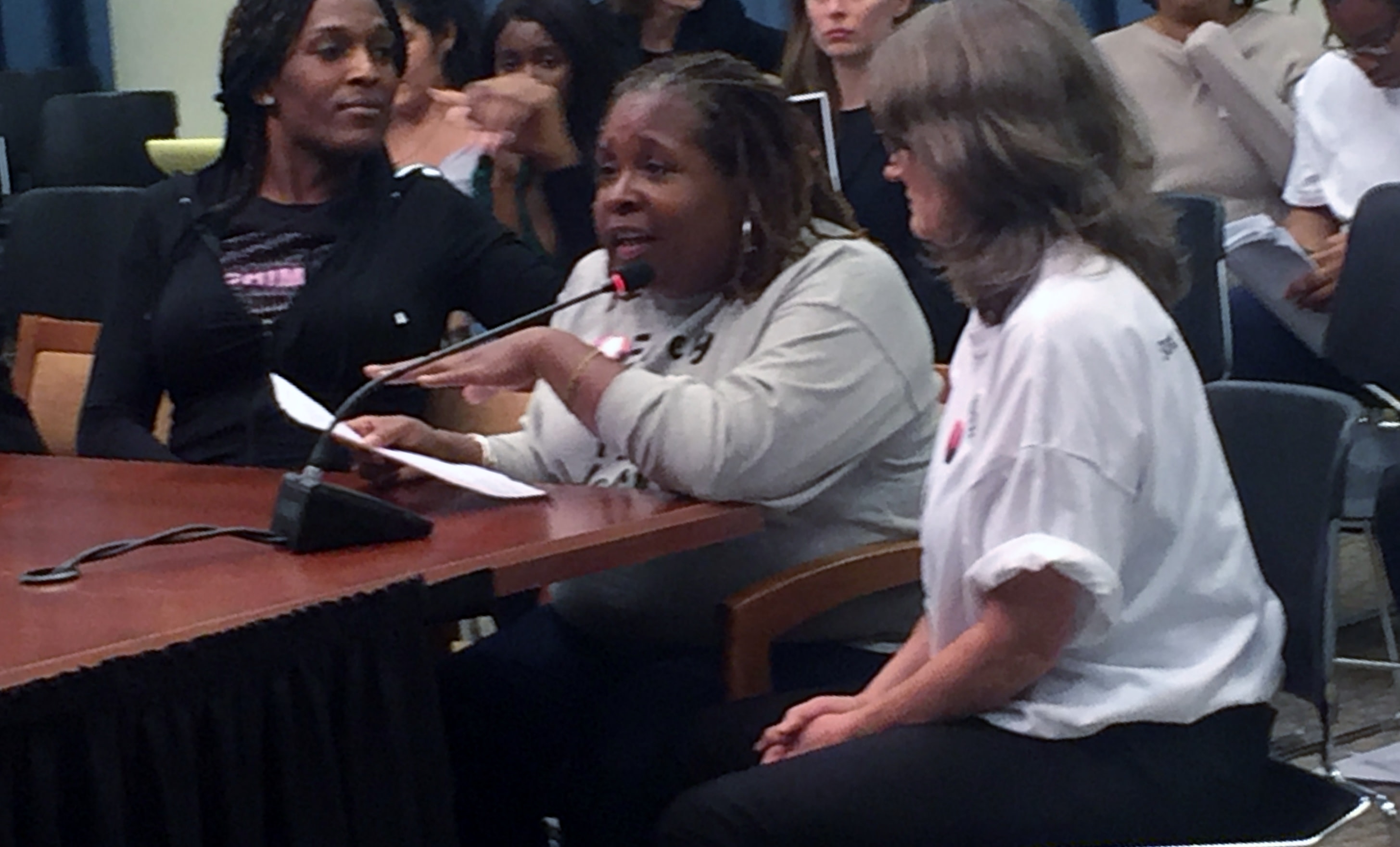 My name is Vanette Jordan Lumogo and we are speaking in support of the Community Safety and Health Amendment Act on behalf of the Global Women's Strike and Every Mother is a Working Mother Network, two networks that are pressing for a care income for mothers and other caregivers as a way to tackle inequality and poverty, driving forces behind prostitution.
And my name is Phoebe Jones.  I'm a Quaker, have a PhD in physical education, and live in Philadelphia, although I was born and raised in Washington DC.  "Mothers" and "sex workers" are not often put together.  But the majority of sex workers are mothers, estimated at as high as 75-80%. This goes hand in hand with the statistic that 73-75% of the poor in the US are women and children, disproportionately women and children of color.
Prostitution is a survival strategy to deal with that poverty as well as discrimination, lack of pay equity, domestic violence, debt, high cost of living, low wages, unemployment, exploitation, homelessness and lack of support for caregiving for children and elders.  When one in 25 families in the US live on 2 dollars a day, when 20% of families are on food stamps, when welfare reform and other measures have shredded what is left of the safety net, and when single mothers are consistently the poorest, it's not surprising that so many women faced with no or few viable alternatives resort to prostitution to survive, feed their kids, and put a roof over our heads.  It's shocking that some women's organizations are opposing this legislation which would stop so many low-income women from going to prison, disproportionately women of color including trans, immigrant and young women.  Where were those organizations when welfare for single mothers was being cut?  Why haven't they been fighting for payment for the 40 million unpaid family caregivers taking care of loved ones?  We join with sex workers who say Outlaw Poverty, Not Prostitutes.
When our groups testified in favor of a bill to decriminalize prostitution in New Hampshire in 2016, some legislators asked, what will be the effect on children of decriminalization?
We responded that it's the devastating effect on children of criminalization that needs to be addressed.  Children whose mothers are in prison for prostitution are often placed in foster care where 1/3 say they face abuse. Children who have been separated from their families have twice the rate of PTSD than Gulf War veterans [statistics at www.nccpr.org]. We can tell you living in Philadelphia, the large city which removes children at the highest rate in the country, that the outcomes for children are so bad that we call it the "foster care to prison pipeline".  Those aging out of foster care have little alternative but the streets where they are vulnerable to violence.  This is a community safety issue.
And this is one of the reasons that the Philadelphia District Attorney announced that his office is no longer prosecuting any sex workers, even those with multiple convictions who used to be steered to DAWN court, a strategy that was supposed to steer sex workers to services but which often led to even more jail time, so much so that lawyers tell those arrested to take their chances in court.
Criminalization makes matters worse for mothers, children and communities.  We support and urge you to pass the Community Safety and Health Amendment Act of 2019.

P.O. Box 11795  Phila PA  19101  philly@allwomencount.net  215-848-1120