See background and what you can do to support this campaign. Please email us at philly@allwomencount.net if you would like to endorse and participate, or call 215-848-1120. We look forward to hearing from you.
TANF or welfare "reform" dismantled welfare as a right for the most impoverished families and made it into "workfare" which is a forced work program for no wages at all or below the minimum wage as a requirement to get meager welfare benefits.  This shredding of the safety net has been devastating: since its passage in 1996, extreme poverty among women-headed households has nearly tripled. 1.46 million households live on less than $2 per person per day.  16.4 million US children live in poverty, 7.4 in extreme poverty.  Nearly 17 million American children struggled with hunger in 2011, the latest number available from the U.S. Department of Agriculture. 
The impact of welfare "reform" is that single mothers and their children are the fastest growing populations of homeless people are, a disproportionate percentage of whom are of color, and mothers are the fastest growing population of those who are imprisoned. With no income, with the safety net in shreds, mothers have no choice but to do what we can to feed our children.  It should be no surprise that when welfare is cut the number of single mothers arrested for prostitution increases.  Others have had to choose between homelessness and returning to an abusive partner.  If we are a victim of domestic abuse or become homeless, child welfare accuses us of failure to protect our children, detains and places them into foster care with strangers or on a fast track adoption schedule.  In fact, welfare "reform" transferred money from single mothers and our children into child welfare agencies.  The numbers of children removed from their homes and placed in foster care – especially but not only from families of color – due, not to abuse or neglect but to poverty, have skyrocketed since the passage of welfare reform.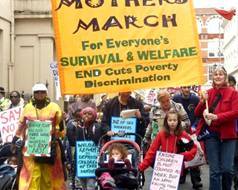 We are asking for your endorsement of a bill now in Congress: the RISE Out of Poverty (RISE) Act (H.R. 3486), by Congresswoman Gwen Moore (D-WI).   With RISE, we would finally have an opportunity to make substantial changes in welfare "reform" that would shift policy towards elimination of poverty rather than simply reducing welfare rolls.    To tackle child poverty, RISE would re-establish the entitlement of mothers – the first caregivers and child protectors – to society's support for the work of raising the next generation and caring for entire communities.
We are also asking that you support the reintroduction of the Women's' Option to Raise Kids (WORK) Act which would give single mothers on welfare the right to raise their young children up to age three fulltime at home, abolishing their workfare requirements.  WORK was introduced into the last Congress by former Congressman Pete Stark of CA.
Please see the petition and call to action. We hope you agree with them and urgently lend your name and/or organization.
Initiated by: Global Women's Strike; Women of Color/Global Women's Strike; Every Mother is a Working Mother Network.
Sponsoring organizations:
Black Autonomy Network Community Organization (BANCO), Benton Harbor, MI
Rossana Cambron, member, Military Families Speak Out, Southern CA
DHS/DCFS – Give Us Back Our Children/Southern California & Philadelphia
Energy Rescue, Omaha, NE
Every Mother is a Working Mother Network/Philadelphia & Southern CA
Family Advocacy Movement, Omaha, NE
Family Connection Center, Cleveland, OH
Fight for Lifers West
Global Women's Strike, Guyana, UK, US
Human Rights Coalition – Fed-Up, Pittsburgh
Legal Action for Women, San Francisco Bay Area, CA and London, England
Massachusetts Welfare Rights Union, Mattapan, MA
Michigan Welfare Rights Organization, Detroit, MI
National Welfare Rights Union, Detroit, MI
Parents Organizing for Welfare and Economic Rights (POWER), Olympia, WA
Payday Men's Network, UK, US
Queer Strike, UK and US
Red Thread, Guyana, South America
Single Mothers' Self Defense, London, England
Survivors, Inc., Boston, MA
US PROStitutes Collective, San Francisco Bay Area, CA
Welfare Warriors MaGoD (Mothers and Grandmothers of Disappeared Children), Milwaukee, WI
WinVisible (women with visible and invisible disabilities), UK & US
Women of Color/Global Women's Strike, UK & US
Endorsers include:
Bay Area Sex Worker Advocacy Network
Brandywine Peace Community
BuxMont Coalition for Peace Action
Causa Justa :: Just Cause
The Charles Foundation
Chester County Peace Movement Chapter of Coalition for Peace Action
Class Action
Coalition for Peace Action/Princeton
Connecticut Coalition for Peace & Justice
Thomas Paine Cronin, Retired President of AFSCME D.C. 47
Dallas 6 Campaign, Pennsylvania
Peter Edelman, Georgetown Law
F*WORD (Feminists Working on Real Democracy), a project of the Resource Center for Nonviolence, Santa Cruz, CA
Paul Glover, Green Party Candidate for Governor of PA
Frances Goldin, literary agent, housing activist
John Grant, journalist, Veterans for Peace/Phila area (identification purposes only)
Greater New Haven Peace Council
Immortal Technique, Peruvian born American rapper, urban activist
International Jewish Anti-Zionist Network
Greg Kaufmann,Senior Fellow, Center for American Progress (CAP)
Felicia Kornbluh, University of Vermont
PA State Senator Daylin Leach
Main Line Peace Action
Massachusetts Peace Action
Mass Incarceration Working Group, Germantown Friends Meeting, Philadelphia, PA
Harvey Milk LGBT Democratic Club
Montgomery County Peace Action, Maryland
Montgomery County, PA Chapter of the Green Party
The Mosaic Project, Oakland, CA
Mumia Abu-Jamal
Musicians and Fine Artists for World Peace, Vallejo, CA
National Peace Action
Nebraskans for Peace

New Hampshire Peace Action

No Nukes No War, Hartford, CT
North Country Peace Group
NOW Philadelphia Branch
Oregon PeaceWorks
Annelise Orleck, Dartmouth University
Parkhouse Studios
Pax Christi Florida
Pax Christi USA
Peace Action West, based in Oakland, CA
Peace Action Wisconsin
Peacehome Campaigns
Peace House of Oklahoma
Peak Women, Santa Cruz, CA
Philly Collaborative for Reproductive Justice & Support (PCRJS)
Frances Fox Piven
Project for Nuclear Awareness
Queer Student Union, Prescott College
Resource Generation, Oakland, CA
Dorothy Roberts, University of Pennsylvania
Crystal Sanders, Pennsylvania State University
Cindy Sheehan, Peace and Freedom Party candidate for Governor of CA
Sin Barras :: Without (Prison) Bars, Santa Cruz, CA
Statewide Parent Advocacy Network
Stop Targeting Ohio's Poor
Students of Color Organizing Against Racism (SCOR), Prescott College
Suffolk Peace Network
Swarthmore Labor Action Project
Dr. Heather Ann Thompson, Prof of African American Studies & History, Temple University
Veterans for Peace/San Francisco
Voices of Women Organizing Project
Cornell West, Princeton University professor, activist
Women's International League for Peace & Freedom/Santa Cruz
Women's International League for Peace & Freedom – US Section (WILPF US)
Women Trans Prisoner Defense Committee, Pittsburgh