Statement for Councilman David Oh hearing on Resolution #180787 Tues Feb 12, 2019
From the Every Mother is a Working Mother Network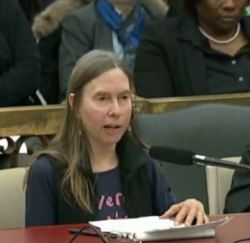 Thank you for giving us and others the opportunity to speak today about our experiences with the child welfare system.   With Philadelphia now once again #1 among large US cities for removing children from their homes, this is an urgent matter for the most impacted communities.
I am representing the Every Mother is a Working Mother Network, a multi-racial local and national grassroots network of mothers, other caregivers and supporters campaigning for resources in recognition of the social and economic contributions of caregivers.
We got actively involved in the child welfare issue 12 years ago when we joined mothers who were holding a weekly demonstration outside of DHS, protesting the unjust removal of their traumatized children and demanding to get them back.
Ever since then, we have had hundreds of calls at the Crossroads Women's Center in Germantown where we are based, about children being unjustly taken – the vast majority from Black and other women of color pointing to the racism behind these decisions.  You will hear later from Carolyn Hill whose nieces were unjustly taken.
We formed a collective self-help advocacy group, DHS Give Us Back Our Children, with the aim of supporting each other in our cases, working for changes in the system, and addressing the underlying causes.  We also produced a video about this work, on our website www.everymothernetwork.net
A few examples of those who came to us:
A domestic abuse survivor whose kids were taken when she reported the abuse against her.
A mother who found a note in her parenting capacity evaluation mocking her speech impediment from a childhood accident.
Many mothers forced to jump through hoops with little practical takeaway for them, but used to make profitable an anger management and parenting class industry.
A mother billed monthly for the time her child was in the system.
Many mothers who lost their homes when DHS took their kids disability checks.
A loving and able grandmother denied custody of her grandson for no good reason.
A father whose daughter was taken because of a water shut-off right after his wife died of cancer.
A foster mother who refused to administer the heavy psychotropic drugs being forced on a traumatized child who missed his mother.
A Native American mother who lost her children to her husband's white suburban family, even though it was the husband's actions that prompted the removal of the children.
A distraught mother with so little hope of getting her baby back she committed suicide.
We found that overwhelmingly children were taken, not because of abuse or neglect, but because of poverty, sexism, racism, disability discrimination and lack of legal help.  Shockingly mothers who are victims of domestic violence were more likely to have their children taken than to get support so they could stay together in safety.  Children were separated from the only person who had tried to protect them and were even being given to the abusive husband.
We direct you to page 52 of The Souls of Poor Folk, a crucial document of the Poor People's Campaign – A National Call for Moral Revival (PPC) for vital statistics on the impact of poverty on child welfare, and to the RISE Out of Poverty Act in US Congress, a bill that seeks to get rid of the worst aspects of welfare reform that contributed so much to the increase in the taking of children. With the PPC, we say, take away our poverty, not our children!
It is critical to say that children pay the highest price.  Children are traumatized by separation, whether in Philadelphia, at the Mexican border or in rural areas across the country.  Foster children have twice the rate of PTSD than Gulf War veterans and 1/3 report abuse in foster care, yet this is not taken into account when decisions to tear them away from their families are made.
We find that the odds are stacked against the mother facing a system often alone, or with a court appointed overworked or even unmotivated lawyer who spends less than five minutes with her.  There are few checks and balances on agencies and child advocates for biases and the huge financial incentives to take children away; little oversight of psychologists who perform "parenting capacity evaluations" that bolster the DHS's case; and no sunshine on courts who rubber stamp the professionals, even when the mother has been able to gather proof of her innocence.
Opening the courts, including to family advocates, and making pro-family legal representation available to all would also help.
We want to flag up the part of the resolution pertaining to the importance of family bonding and the dangers of jeopardizing that bonding, a danger evidenced among other things by the foster to care to prison pipeline.  While we don't know the percentage in PA, we do know that 70% of California state prisoners were in foster care.
It is the bonding between mother and child that is being severed in most cases – the first and most crucial bond for child happiness, security and development. Using the words "parent" and "family" rather than mothers, can hide the fact that it is overwhelmingly mothers who are the caregivers and who are being vilified and blamed for poverty, ill health, disability or domestic violence, and punished with the worst form of punishment – separation from one's children who are going through Hell.
We would like to know how many millions of dollars are spent removing children which could be spent supporting mothers and other caregivers to keep their families together, and who gets that money?  We heard that it costs $38,000 to remove one child, and over $100,000 if the child is in an institution.  Yet we know that $15,000 per year would help to pay the rent, fix a leaky roof, or pay off utility and other bills – this would go a long way to keep families together.  Or, as one foster mother in our video said, "If they can pay me, why can't they pay the mother?"  Now that would be in the best interest of the child!
Thank you.