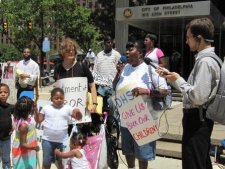 1) How did the children come to be placed in Ms Hill's care?
DHS placed Ms Hill's nieces in her home with the goal of adoption after their parents' rights had been terminated (April 2011).  Tabor Services, the agency DHS contracted with, was processing the adoption paperwork
2) How were the children doing when taken from Ms Hill's care?
All agreed they were doing well and there was no abuse or neglect.  The older girl went from being traumatized and withdrawn to being a happy child gaining speaking skills.
3) What led to the children being taken?
A new social worker from Lutheran Children and Family Service who took over when Tabor Services lost its adoption license decided Ms Hill was not adoptive material because she did not have a GED and because of a negative Parenting Capacity Evaluation.
4) What was in the Parenting Capacity Evaluation (PCE)?
A psychologist who spent just over one hour with Ms Hill on one day (not two as was in her report) reported Ms Hill had cognitive issues & mental health problems (later proved unsubstantiated – see #10). Evidence for the so-called "mental health problem" was that Ms Hill was prescribed sleeping pills after her mother died and that she sometimes had yelled at her own children
5) How were the children taken? (April 2012)
The Lutheran social worker arranged to meet Ms Hill "to talk".  When the social worker arrived she took the children with no notice, warning, court order, or chance to prepare the girls.  She took the children on the eve of the Easter holiday so Ms Hill could not get touch with anyone to object.
6) What happened in the court hearing on April 9, one week later?
A DHS social worker told the judge that Ms Hill was being evicted and had financial problems and mental health issues – none of this was true.  Ms Hill has been in the same house for 13 years*.  DHS did not tell the court that Ms Hill was pre-adoptive.  Ms Hill was present but was not allowed to speak.  On these bases, the court denied her standing and approved the removal.**  Ms Hill is convinced that if the court knew the truth, the children would still be with her.
7) Why didn't Ms Hill appeal?
Ms Hill who is low-income and the aunt, not the mother, was denied standing after her status was misrepresented as a foster carer rather than a pre-adoptive parent.  She was not informed of her legal rights as a pre-adoptive parent, nor did DHS tell her that she had the right to appeal within 30 days.
8) Who objected to the removal of the children from Ms Hill's care?
The entire Hill family! They expressed their views in letters, two petitions signed by 24 relatives, and at the Family Group Decision Making meeting (FGDM) held in July 2012 after the girls were taken. In addition, Ms Hill's pastor, her former DHS social worker, then State Rep Tony Payton, neighbors, friends and the Every Mother is a Working Mother network support the girls' return.
9) How did the children wind up with another family member?
Instead of doing what the family wanted, and returning the girls to Ms Hill's care, DHS proposed that a family member temporarily take the children.  The family agreed only to get the girls out of foster care with strangers.  The primary "temporary" carer is a non-blood relative. She has put the children in full-time daycare compared to the full-time one-on-one care they would get with Ms Hill. The household also has questionable associations. This placement is being used to keep the kids from Ms Hill and prolong the case.
10) Has Ms Hill passed the psychological assessment and is considered a suitable adoptive parent?
Yes. In Aug/Sept 2012, a psychologist from JeffersonUniversityHospital evaluated Ms Hill for nine hours over five days, including with the children.  He found that Ms Hill "demonstrates the capacities, attributes, skills and abilities" for parenting and "has a good capacity to provide safety, permanency and an environment conducive to develop and sustain an atmosphere of psychological well being" of the girls. (Aug/Sept 2012)
11) Did DHS agree for the children to be returned to Ms Hill?
Yes, twice and then it again reversed its decision.  In Sept 2012, a DHS lawyer said verbally they were in support of returning the children.  Yet they did not convey this to the court, nor present the findings of the new PCE. In Nov, DHS put in writing that they support the return of the girls.  Yet in Feb 2013 they agreed in court to the cutback in Ms Hill's visiting hours. In March at a meeting with Ms Hill and her lawyer, DHS reversed its position again saying that the children were "doing well" with the distant relative even though they thought Ms Hill was a suitable adoptive parent.
12) Is the case still in court?
Yes. Ms Hill was granted a hearing for oral arguments this coming August 20th in Superior Court in an ongoing struggle to attain standing in the Family Court hearings concerning her nieces. She filed a motion for standing in court in August 2012, however Judge Wright denied this motion at the September hearing.  Ms Hill, with the help of a pro-bono lawyer, filed an appeal which led to the upcoming August 20th Superior Court hearing. But every day this case is delayed means that two young children are deprived of the love and care of their aunt whom they bonded with and had the expectation they would settle with permanently. Ms Hill only got her present lawyer after Every Mother is a Working Mother, who has supported Ms Hill throughout, spent months approaching all the lawyers they knew and were recommended, asking for someone to take on the case.
13) Does Ms Hill get to see the children?
She was seeing them eight hours a month at home and at an agency after they were taken.  Yet in February 2013, the Child Advocates claimed the children were "acting up" on return from seeing Ms Hill, so the court approved cutting back the visits to two hours a month at an agency.  If true, the only apparent reason that the children were "acting up" is because they were upset at leaving Ms Hill. They should not be punished because they don't want to leave her.  If DHS does not intend to pre-empt the decision of the court by limiting the visits, disrupting the relationship between Ms Hill and her nieces and disadvantaging Ms Hill as a potential adoptive parent, it can go back to court immediately to get the full visits reinstated while the case is being settled.
In conclusion,
The many injustices of this case include:
Two young vulnerable girls being taken from a loving home based on prejudicial and discriminatory information. How can the lack of a GED ever be a consideration in assessing whether someone is suitable to care for a child?  What are the implications for this considering that in Philadelphia, which is majority people of color, half of all students drop out from high school?
DHS misinforming the court on factual matters such as Ms Hill's status as a pre-adoptive parent, and her housing situation.
Inordinate delay. It is a common tactic to drag legal cases out so that children bond with their new caregivers and then for DHS and child advocates to argue that it would be cruel to move them.  But DHS had no such qualms when they took the children from Ms Hill who had them for a full year and put them in foster care with strangers.
DHS taking advantage of Ms Hill's lack of information about her rights which she had not been informed about and until recently her inability to find a lawyer to represent her. Specifically, Ms Hill did not know that as a pre-adoptive parent she had the right to standing in court and she did not know she should appeal the removal of the children within 30 days. She also did not know that she could independently file for adoption.
Disregarding of the family's and community's views that the children should be returned to Ms Hill's care.
Notes:
* Ms Hill has Section 8 housing. DHS was late in getting them the girls' birth certificates and social security numbers jeopardizing their ability to stay with her but not her voucher.  She was never threatened with eviction.
** Ms Hill and her lawyer have been denied access to the April 9 court record, but Ms Hill has an affidavit on what she heard.