Spoken Testimony of Richard Wexler, Executive Director, National Coalition for Child Protection Reform
Before the Committee on Public Health and Human Services
Philadelphia City Council
February 12, 2019
Richard Wexler's full written testimony to the hearing can be found here.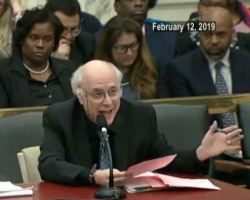 Chairwoman Bass, Councilman Oh, members of the Committee:
My name is Richard Wexler. I am Executive Director of the National Coalition for Child Protection Reform.
Thank you for inviting me to testify today. I am honored to be included among such a distinguished group of witnesses.  I have only one regret about being here: Too much of this testimony will be a rerun.
The first time I testified before the Philadelphia City Council was 12 years ago.  At that time, I pointed out that Philadelphia was an extreme outlier, tearing apart families at the highest rate among America's largest cities.
In the years since, there have been real improvements. But what does it say about this city's take-the-child-and-run extremism that even with all that improvement, and even when rates of child poverty are factored in, Philadelphia still tears apart families at the highest rate among America's big cities?
Philadelphia tears apart families at a rate nearly double the average for America's ten largest cities.  Philadelphia tears apart families at two-and-a-half times the rate of New York City and more than four times the rate of Chicago.
Does anyone seriously think Philadelphia children are more than twice as safe from abuse as children in New York City, and more than four times as safe as children in Chicago?  Yes, there have been horror stories in those other cities.  But, as we all know, Philadelphia has horror stories, too.  So all that additional suffering inflicted on all those children needlessly taken from everyone they know and love is doing nothing to make children safer.
We not alone in singling out Philadelphia's obscene rate of removal as a serious problem.  Consultants hired by DHS itself raised it as well.
It's important to understand that the typical cases that dominate the caseloads of child welfare workers are nothing like the horror stories. Far more common are cases in which family poverty is confused with "neglect."  The problem of class bias is compounded by racial bias.
Other cases fall between the extremes.  So it's no wonder  at least five separate studies, two of them massive in scope found that children left in their own homes typically fared better even than comparably-maltreated children placed in foster care.
That includes cases in which the problem is substance use.  The research is clear: Where parental substance use is endangering a child, drug treatment for the parent almost always is a better option than foster care for the child.
All this harm, all this needless trauma to children, occurs even when the foster home is a good one.  The majority are.  But the rate of abuse in foster care is far higher than revealed by official statistics which involve agencies such as DHS investigating themselves.  Multiple studies have found abuse in one-quarter to one-third of foster homes.  The rate of abuse in group homes and institutions is even worse.
But even that isn't the worst of it.  The more that workers are overwhelmed with false allegations, trivial cases and children who don't need to be in foster care, the less time they have to find children in real danger.  So they make even more mistakes in all directions.  That's almost always the real reason for the horror stories about children left in dangerous homes.
Don't let anyone tell you that family preservation and child safety are opposites that need to be balanced. That is the Big Lie of American child welfare.  You can't have child safety without family preservation. The take-the-child-and-run approach makes all children less safe.
Every day that Philadelphia DHS fails to embrace real change, every day Philadelphia DHS continues to be an extreme outlier, it only sets the stage for the next horror story and the one after that, and the one after that.
Philadelphia's extreme outlier status is not because of the scandal concerning former foster parent and group home operator Jerry Sandusky. It's not because of all the bad laws that were passed after the scandal.  And it's not because of additional hotline calls.
We know this because those same laws apply in Pittsburgh.  They got more calls too. Yet there was no increase in removals in Allegheny County.
Three final points:
First: One of the problems with the child welfare debate is that we all say the same things, but we mean different things by them. Nobody ever says: Boy, do I hate prevention!  If there's one thing I can't stand, it's prevention!  So when it comes to DHS leadership, never mind the words – watch the numbers.
Second: Don't waste your time rearranging the deck chairs on the Titanic. Reorganization is what agencies do when they don't want to make real change. Forget reorganizing and become laser-focused on safely reducing needless entries into foster care.
And third: Press the legislature to strengthen the existing rebuttable presumption that all family court hearings are open.
When the chief judge of New York's highest court, the Court of Appeals, ordered New York State's family courts opened more than 20 years ago, she put it best:
"Sunshine is good for children."
Thank you – I would be pleased to answer any questions.