Vigil and Speak Out
Wednesday, Dec. 18th gather 11:30 am
Edelman Children's Court
201 Centre Plaza Drive, Monterey Park CA 91754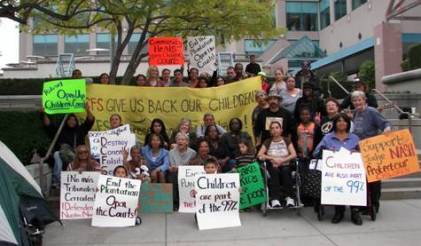 There was a hard fought and successful battle to open Children's Court BUT NOW, the California Appeals Court is about to rule THIS WEEK Dec 19th that Children's Court must be closed.
Thursday, Dec. 19th, gather at 9:30am CA Appeals Court, Reagan State Bldg, 300 S. Spring St. on the 3rd floor. Case will be heard at 10:30.
Come support children, mothers, grandmothers. Keep Children's Court Open!
Called by DCFS Give Us Back Our Children and Every Mother is a Working Mother Network
Endorsers: Alexandria House; Californians United for a Responsible Budget; Global Women's Strike & Women of Color/GWS; Art Goldberg, Working People's Law Center; Mimi Kennedy, actress; LA CAN; Mary Sutton, LA No More Jails Coal & Critical Resistance; Western Regional Advocacy Project; Women'circle@OccupyLA; Youth Justice Coalition
Last year Judge Michael Nash, presiding judge of LA Co Juvenile Court, opened the court, which had been closed to the press and the public, so important decisions that impact removing children from their families were no longer made without public knowledge.
Dependency Court lawyers and the union representing social workers have long opposed opening the courts, despite the fact that the courts have been opened in over a dozen other states with no negative impacts. Ending dependency court secrecy will help reduce the numbers of children unjustly detained and help to ensure that vulnerable children will be better represented and protected.
Opening children's court has been an important step toward making LA child welfare services less secret and more accountable. It has helped inform the public. Among large metropolitan areas, LA County has one of the highest rates of removing children from their families, disproportionately children of color, while children needing protection don't always get it. Why is LA County moving backwards?
Judge Judith Kaye, chief judge of New York State's Court of Appeals at the time that state opened its children's courts, put it best: "Sunshine is good for children."